Last night, or early this morning I should say, was a beautiful site unlike anything I've seen.  On an evening with no moon to be seen, and not a cloud in the sky, it was a warm, crisp and clear night that only those who have been to Montana to see it could grasp the shear immense scope of the stars and the sky.I had just finished a wonderful 2 day shoot at a ranch South of Big Timber on the Boulder River when I decided I should stop in at a favorite spot in the Paradise Valley on the...
---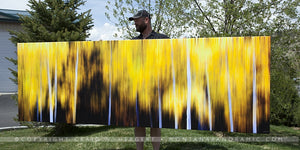 Just finished a 10 foot wide piece for a client from the "Impressions" series: Fall along the Rocky Mountain Front  
---

One of my cousins came up from Denver for his first Montana trip. After a couple days of spring skiing, on Sunday we opted for the power trip to Yellowstone to see the sites. Then, just outside of Mammoth while we were watching a group of bison in the rain, the clouds broke for just a brief moment to reveal this low lying rainbow.....talk about being in the right place at the right time! "Break in the Clouds" link to image:
---

It was a gorgeous winter weekend Saturday outside of Townsend at Canyon Ferry Lake, and while watching a myriad of people enjoying their sunny day on the ice, the forms began to take shape in the distance. Ice fishermen drove trucks and four wheelers to their lucky spot hoping for fresh dinner, and more material for lies at the local tavern. A group of ice sailboats floated with quiet speed and razor sharp accuracy, an ultralight flew at a low elevation surveying the tiny world below putting his personal view of life, and the moment in perspective. And lastly, a...
---

Timelapse during fall on the Sun River I had driven 3 hours for just one afternoon and a night of shooting on the Sun River IN the Rocky Mountain Front near Augusta. The weather forecast was supposed to be clear, however the clouds stuck around to stay completely overcast throughout the afternoon and into the evening. And to top it off the wind was gusting to 60+ mph making it almost impossible to get a tripod steady for long exposures....The shoot seemed doomed.Contemplated heading up to the the Sun River Canyon Cafe for a giant grass fed burger and a...