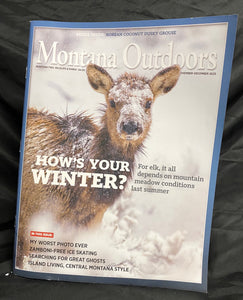 Montana Outdoors Magazine - Nov.-Dec. 2023"Montana Panoramic: Transparent in the Backlight"Craig W. Hergert. Essays by Shann Ray.Few images capture the grandeur of Mon-tana—big sky, big land, big mountains, bigeverything—as well as Bozeman photographerCraig Hergert's panoramic photographs. Inhis newest coffee-table book, Hergert takesviewers on a journey to 26 areas from GlacierNational Park to Ekalaka. We almost don'twant to recommend this stunning photogra-phy collection, because anyone who sees itwill want to immediately move to Montana.
---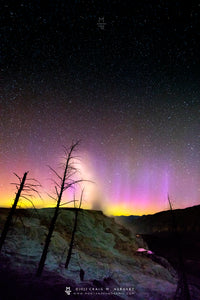 Canary Springs under the Northern Lights - Aurora Borealis - Yellowstone National ParkI had been keeping an eye out on the Aurora Borealis activity in the area for the last couple weeks, trying to find a night I could skirt my time commitments at home and head out to see what I could find. Finally, I had an opportunity to sneak out for an all nighter and loaded up the truck to hit the road. Had a few locations picked out in my mind in the northern Bridger Range, along the Gallatin River or north of Livingston. Instead, I opted...
---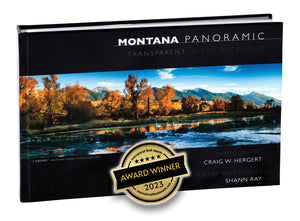 Honored to receive the Winning award of the American Book Fest - 2023 International Book Awards! Photography Montana Panoramic: Transparent in the Backlight, photography by Craig W. Hergert, poetry and stories by Shann Ray Great Wide Open Publishing AMERICAN BOOK FEST™ ANNOUNCES WINNERS AND FINALISTS OF THE 2023 INTERNATIONAL BOOK AWARDS™ Mainstream & Independent Titles Score Top Honors in the 14th Annual International Book Awards™ Penguin Random House, Wiley, Hachette Books, McGraw-Hill, Routledge, Rowman & Littlefield, Tor Books, HCI Press, Hay House, Greenleaf Book Group, Llewellyn Worldwide, Girl Friday Books, She Writes Press, Ideapress Publishing, Muse Literary and hundreds of...
---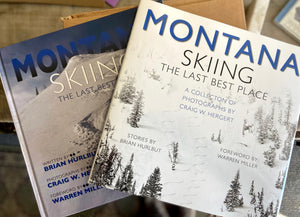 Just finished selling my last original printing of "Montana: Skiing the Last Best Place". Thank you to everyone who bought this original copy published in 2012! There are still a few left of the second edition printing available for all those crazy ski / snowboard nuts out there dreaming about the next season… 
---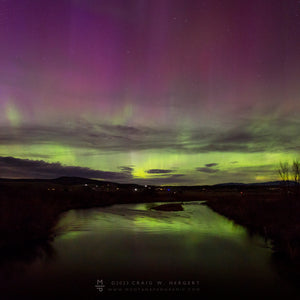 I love seeing all the images and video that everyone took and posted to social media all over the west last night, such an incredible display by Mother Nature! I started my shoot off heading north out of town to get away from the lights and clouds hovering over the valley. Meandering through some of my favorite gravel back roads, I decided that a bridge access of the East Gallatin River near Dry Creek would be a perfect place to hang out for the show. I sat in awe as the greens magically appeared and dissipated in and out below the stars...