The winter has been very mild here in Bozeman this year, and whilst in the midst of a "no powder days" doldrums recently, a good friend gave the call I love to get, lets hit the backcountry! Now Cooke City is known more as a snowmobile mecca, and since I sold my "access" sleds years ago, we decided just a couple of quick-right-out-of-town skin and ski's was exactly what the doctor ordered. And, as always...Cooke City did not disappoint. Montana: Skiing the Last Best Place" available here:Prints available here:
---

As with many people today, I have become very burnt out on the constant bombardment of news, stories and information. This love-hate relationship  with technology and its current intertwining with my life, livelihood and links to current and past relationships is a hard path to follow that I constantly struggle with.From the need to feel connected by reading what is going on in the world, with my clients, my friends, and now with "virtual" friends -- to the desire to be disconnected from everything and reconnect with nature becomes more and more intense each day.  A tiny computer called a...
---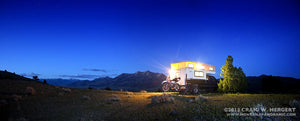 My portable hotel / studio and 2 wheel taxi on a commissioned ranch shoot in southwest Montana...
---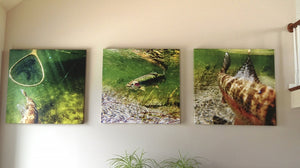 A couple of great folks who grew up in Livingston, but now live in Washington recently sent this to me of the 45" x45" triptychs of the "Bighorn Rainbows" they ordered earlier this year ...."Thanks Craig, we love them!!!!!!!!!!!"http://www.montanapanoramic.com/index.php/searchgallery/1075/483/fishing/P-the-bighorn-rainbow-bighorn-river-oe
---

Just got back from a fantastic vacation to visit my wife's family home turf---the east coast. New York City, Connecticut, and New Jersey-Long Beach Island. It's always great to get away….and even better to get back home! About 10 years ago when I visited for the first time I was enamored with "the city" getting lost in all the art museums, chaos and culture, and I always enjoy when we get a chance to go back. This time we took our 4 & 6 year old boys show them what it was all about. The simple things that they have...