Craig Hergert with Brian Hurlbut | Montana, Skiing The Last Best Place Published: March 6, 2013By Judy Shafter - Lively Times  Link to Lively Times review: The state of Montana offers an abundance of world-class recreational opportunities, and certainly downhill skiing is near the top of this list. Craig Hergert's masterful photography, accompanied by Brian Hurlbut's friendly narratives, beautifully illustrate the state's 16 public ski areas, along with one private facility. "For me, skiing in Montana is the way skiing was back in the 1940s … Simple, beautiful, and quiet," writes famous ski filmmaker and winter sports enthusiast Warren Miller...
---
Documentary project explores Montana ski areas:http://www.flatheadnewsgroup.com/whitefishpilot/article_88b3d6a4-8688-11e2-972c-001a4bcf887a.html By MATT BALDWIN Whitefish Pilot Bozeman-based photographer Craig Hergert has spent the past eight years traveling in his truck and camper to every lift-serviced ski area in Montana. From the "biggest skiing in America" of Big Sky to the dozen or so mom and pop areas scattered throughout the state, Hergert has photographed and skied them all. He's complied the best images from his journey into a 226-page coffee table-style book "Montana: Skiing The Last Best Place." The book follows in the spirit of a true documentary project and attempts to capture each ski...
---
A new story in the Helena Independent Record newspaper today on the ski book...here is a link to the digital version: BIG SKI COUNTRY'Quirky, quaint' Montana ski areas featured in new bookAuthor Craig Hergert wanted to document small hills before they changed   This photo, called 'High Voltage,' is one of many photos taken at Great Divide ski area featured in the book 'Montana: Skiing the Last Best Place.' The photos were taken by Bozeman photographer Craig Hergert and includes stories by Brian Hurlbut. The book also includes a foreword by Warren Miller. By EVE BYRON Independent Record Buy the...
---

I've been down for the count with this funky flu/cold thing going around for about the last 3 weeks straight now, and it was high time for a quick run to Bridger Bowl to meet some friends for a few runs out on Schlasman's. Decided to not bring any camera gear in order to have a little time to just enjoy skiing. But the light was so good, and this group of guys had not all been to Bridger all at the same time in years....I could not resist doing a few panoramics with the trusty iPhone after all.
---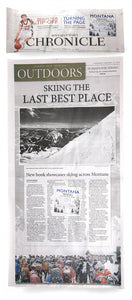 Bozeman Daily Chronicle: Feb. 14th, 2013Here is an image of the story, we'll post a link to the story when available.