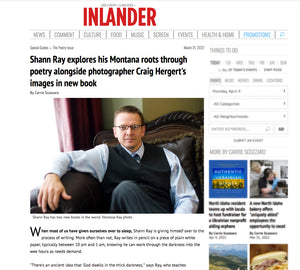 When most of us have given ourselves over to sleep,
Shann Ray is giving himself over to the process of writing. More often than not, Ray writes in pencil on a piece of plain white paper, typically between 10 pm and 1 am, knowing he can work through the darkness into the wee hours as needs demand.
Link to the story here:
---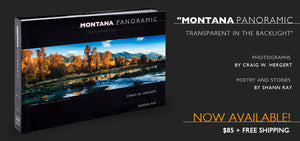 New book is now available!
---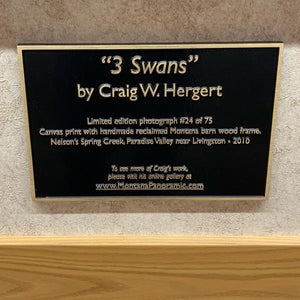 Had not been to the new wing at the airport since these were installed last year. Was great to see them on the wall, and am honored to have my work in this permanent collection! Happy Holidays!! #montanapanoramic "3 Swans" Paradise Valley / Livingston, MT - Photo By Craig Hergert at the Bozeman - Yellowstone Airport "Missouri Headwaters" Three Forks, MT - Photo By Craig Hergert at the Bozeman - Yellowstone Airport
---

Please join me tonight for an opening reception of new work "FROM THE FRONT TO THE PLAINS" at the Weaver Room Gallery in the Emerson Cultural Center.  When?   Friday December 13th from 5-8pm  Where?  Emerson Cultural Center, 111 S. Grand, Bozeman, MT  Upstairs in the Weaver Room Gallery http://www.theemerson.org/project/from-the-front-to-the-plains/  This reception is in conjunction 2 other openings in the Emerson tonight along with with the holiday art walk all over downtown Bozeman, so come on by and say hello!    Thank you for your continued support! HAPPY HOLIDAYS! Best,   Craig
---

After days of clouds and rain in the grasslands of central Montana last week, the evening finally revealed a magical reward for my patience. New print release June 2018: "Grass Roots"   Denton, MT More info and prints available here: