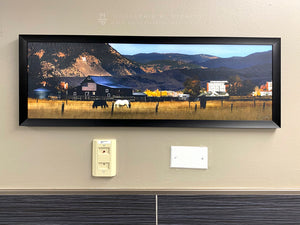 "All American City" 30"x10" paper print with black metal frame
Regular price
$175.00
Sale price
$225.00
Unit price
per
"All American City" 30"x10" paper print with black metal frame

 • PRINT: 30" x 10" open edition print on paper
• FRAMING: 3/4" black metal frame
• FINISHED SIZE: Approx. 31.5" x 11.5" ready to hang
* Paper print is sealed with protective coating, no glass or acrylic

FRAMED PRINT INFO:
This piece is currently on display at the Ridge Club in Bozeman, and is available for purchase here on the gallery website for local pickup or delivery, or it can be boxed and shipped anywhere in the continental U.S. via our "SMALL" size freight shipping.

INTERNATIONAL ORDERS:
For international orders, please place your order here on the website. The piece will be made at a art production facility nearest your location, and shipped directly to you for the same listed price and shipping costs.

OTHER PRINT SIZE OPTIONS:
***For other available sizes, print and framing options, please use this link to go the main product page for this image:
MSU, montana state
---